Five Picture Books Your Child Will Love
Picture books are multi-sensory tools that stimulate the imagination and help build language skills of early learners. The entire process of reading or hearing a story aloud, looking at the accompanying art work and turning each page allows for a unique kind of interactive communication between the parent and child. Talking about the story helps children analyse and understand it, which in turn sparks neural connections and promotes cognitive development. This makes picture books a fun and effective learning tool that provides a a perfect way to spend time with your child. Here are some of our favourite picks for you and your child to enjoy this summer: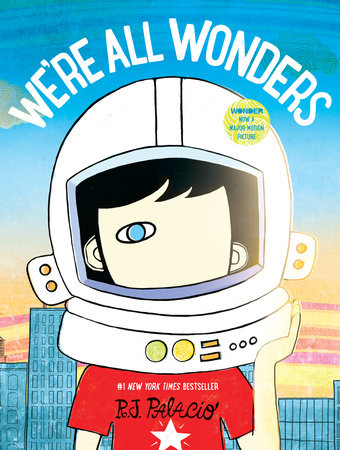 R J Palacio's 2012 middle grade release Wonder sold more than five million copies worldwide, inspiring kindness and anti-bullying campaigns in various schools. The book's success led to a wonderful movie of the same name that was released in 2017.  We're All Wonders features the same unforgettable character, August Pullman, experiencing a new adventure that will especially appeal to the intended audience of children aged 3 to 6 years.
Tidy by Emily Gravett 
This adorable picture book is the latest treasure from award-winning author and illustrator Emily Gravett. Children will love the rhyming story about Pete the badger who has a bit of a cleaning obsession, but soon learns his lesson about the perils of being a bit too tidy.
A companion to the beloved international bestseller Goodnight Goodnight Construction Site, this vividly detailed book for children aged 2 to 5 focusses on team-building, friendship and working together to make a big task seem small and manageable.
Cleverly plotted and vividly illustrated, Laundry Dayis the sweet little story of two mischievous badgers named Tic and Tac who get a little carried away while helping their mother with the laundry. The captivating pen and watercolour illustrations deserve a special mention, and the book is particularly fun to read aloud with children aged 3 to 6.
Triangle by Jon Klassen & Mac Barnett
This delightful story of Triangle and his friend Square is sure to tickle children's imagination while they learn all about the two shapes. The artwork is distinct from most children's books,  and the story is told in a way that grabs your attention keep you intrigued.. While it may not be the ideal tale to impart moral values, it is a fun story about friendship that will leave most children entertained enough to want to go through it over and over again.
"There is no app to replace your lap. Read to your child."